WHY PEKKA RINNE IS HOCKEY'S MOST POLARIZING GOALIE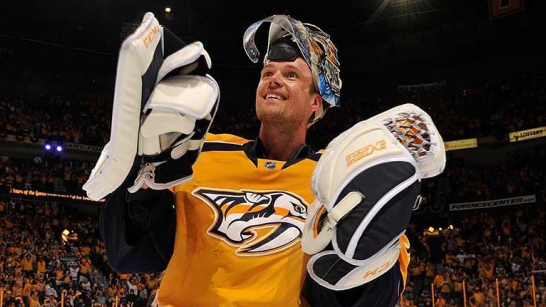 Original Source: Matt Larkin
Posted on: Apr 26, 2017
The stats crowd is tough on him. Those who played the game say he's elite. Who is the real Pekka Rinne, and why is he on fire?
Last year, the Nashville Predators' success came in spite of goaltender Pekka Rinne. This year? Because of him.
Rinne was the story of the 2016-17 playoffs' first round, stonewalling the powerhouse Chicago Blackhawks to key a Preds sweep. His numbers from the series look downright made up: a 0.70 goals-against average, .976 save percentage and two shutouts. Inhuman.
It's easy to forget, though, Rinne found himself badly outduelled just one year ago in the playoffs, posting an .898 save percentage in Nashville's seven-game loss to the San Jose Sharks. That's how quickly the narrative can change regarding the 6-foot-5, 217-pound netminder, who has become one of hockey's most divisive players.
It wasn't always that way for Rinne. He exploded onto the scene in 2008-09, took over the Preds' starting job and finished fourth in Calder Trophy voting. He was a Vezina Trophy finalist in 2010-11 and 2011-12. Known for having the game's best glove hand and for his eye-popping athleticism, honed playing Finland's version of baseball growing up, Rinne was among the NHL's elite stoppers. Few scoffed when he landed a seven-year, $49-million contract extension in 2011.
But as Rinne reached his 30s and his career bled into the dawn of mainstream analytics, he rapidly became the stat crowd's favorite whipping boy. The advanced numbers such as 5-on-5 save percentage and high-, low-, and medium-danger save percentage cast Rinne in an ugly light. He earned the dreaded "overrated" tag. Heck, the stat crowd often called Rinne flat-out bad. His mainstream numbers in recent seasons reflected a different goalie that the one who first arrived in Nashville, too. He posted save percentages between .902 and .910 in 2012-13, 2013-14 and 2015-16. Nashville had a goaltender once regarded as a major strength who was being paid as such but performing as one of the game's weakest starters, at least according to the fancy stats.
And yet, when THN surveyed 10 retired NHL goaltenders last fall to rank current ones, Rinne fared amazingly well. The panel rated 40 goalies in five categories, developed by me and ex-NHLer Corey Hirsch:
Goalie sense (positioning, angles, general hockey IQ)
Athleticism
Puckhandling
Winnability (trustworthiness in a do-or-die game)
Durability (health and ability to handle large workloads)
Rinne finished top-five in every category except durability, having undergone hip surgery in 2013. He rated No. 2 in athleticism behind only the L.A. Kings' Jonathan Quick. Rinne finished second to Carey Price in the overall rankings. Anyone who played the game loves Rinne's skill set. How can there be such a stark divide between the stats and the eyeballs?
One theory: Rinne's style works in real life and doesn't always produce amazing statistics. That's how former NHL goaltender and TSN analyst Jamie McLennan sees it. Rinne's athleticism and second-to-none glove hand give him outstanding rebound control, McLennan says, and that doesn't lead to many second and third chances. Extra rebounds and scrambles produce more shots, more saves and can pad a goalie's stat total. He also thinks Rinne's ability to retrieve pucks kills opposing chances.