Hellebuyck ready for big stage: Jets goalie not feeling any extra pressure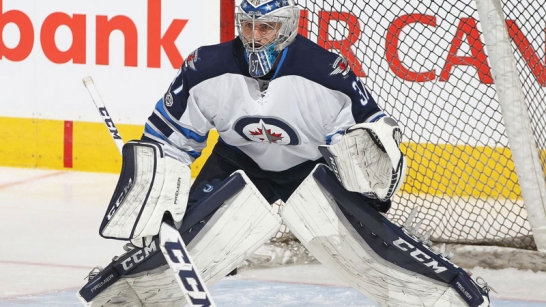 Original Source: Ken Wiebe
Posted on: Avr 10, 2018
These are the moments Connor Hellebuyck was preparing for, way back when he was huddled around the TV imitating the movements of Chris Osgood and Olaf Kolzig.
During the 1998 Stanley Cup playoffs, Hellebuyck found himself in a bit of a quandary.
Kolzig, his favourite goalie, had backstopped the Washington Capitals into the Stanley Cup final against his hometown team, the Detroit Red Wings.
Hellebuyck was definitely cheering for the Red Wings, so for that series, Kolzig had to take a back seat.
It turns out Hellebuyck chose wisely as the Red Wings swept the Capitals to capture the Stanley Cup.
"I watched (the playoffs) a lot. When I was younger, I would always go into my mini-sticks net and act out (what) the goalies (were doing)," said Hellebuyck, who is set to lead the Winnipeg Jets into the Stanley Cup playoffs on Wednesday against the Minnesota Wild. "When the Wings played (the Capitals) in the 1998 playoffs, I watched that tape every night before bed. I got to see on film what that atmosphere is like. To finally be in (a playoff series) is going to be very exciting."
Although the Jets feature more depth than they've ever had in the history of the franchise, there's little doubt Hellebuyck enters the post-season party as one of the most important pieces of the puzzle for a squad with high hopes.
The Jets are deep enough and boast enough talent that Hellebuyck won't constantly be asked to go out and steal the show.
But providing steady or solid goaltending is usually the bare minimum required for a team with designs of going on a long playoff run.
Hellebuyck came into his second full season with plenty to prove.
Following an up-and-down 2016-17 campaign that featured flashes of brilliance but several rough patches, Hellebuyck used the summer to get physically stronger and tidy up his game.
To this point of the season, Hellebuyck has answered every challenge – from reclaiming the No. 1 job to earning his first invitation to the NHL All-Star Game and ultimately, setting a single-season mark for wins by a U.S.-born goalie (44).
The playoffs are where many goalies establish a reputation – either as someone who is able to rise to the challenge or crumbles under the pressure.
Hellebuyck turned aside a query about whether he viewed the playoffs as another opportunity to prove his worth like he was steering a shot from the slot safely into the corner.
"I look at this as a chance to win a Stanley Cup," said Hellebuyck. "I took a moment to enjoy (the regular season success). It's a good milestone in my life, but you know what, it means nothing without a Stanley Cup. Everyone knows that. It's the reason we play hockey. Now that we have a chance, it's going to be something special.
"You don't know how many times you're going to come across this opportunity, especially now with a great team like we have here."
Hellebuyck knows he will be fired up for the frenzied scene on Wednesday, but there won't be any changes to his approach.
At this stage of the game, why change what has been working.
"The same way I would for any other game. Make sure I'm feeling good and that my small details are right," said Hellebuyck, who appeared in a career-high 67 games this season and made 64 starts. "I just want to feel comfortable on the ice and let the rest fall into place. I just kind of try to mind my own business and go about my day-to-day.
"I do have to enjoy this a little bit. This is my first time, my first (playoff) experience and I have to soak it all in, so I can learn from it."
The Jets have no concerns about the fact Hellebuyck is preparing for his first crack at the professional level, either in the minors or in the Stanley Cup playoffs.
"Well, he's been so darn good all year, we expect he'll continue to do that," said Jets head coach Paul Maurice. "The playoffs may be a different animal but the game is the same, right? Pucks are going to get shots and he's going to stop them. I think he's having that even-keel demeanour while also being a really competitive fellow. Those guys usually thrive."
For original article: CLICK HERE