Almost famous: For NHL's emergency goalies, call-up can come any time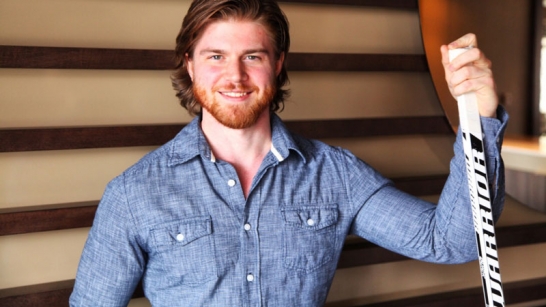 Original Source: Stu Mills · CBC News
Posted on: Apr 07, 2018
It was Oct.19, 2017, early enough in the Ottawa Senators' season that fans still harboured dreams of Stanley Cup glory. The New Jersey Devils were in town, and the Eastern Conference rivals were putting on a high-scoring show at the Canadian Tire Centre.
For Robin Billingham, however, the heart-stopping action wasn't on the ice; it was high above in the press box, and then, in an instant, outside in the arena's parking lot.
"I don't think I've ever run that fast in my life," Billingham recalled.
Billingham, 26, was in attendance as the game's emergency backup goalie — the player all teams must, by NHL decree, keep on standby in case one side suffers the rare and rotten luck of losing both its starting and backup netminders.
The new rule came into effect following a game in 2015 when a Florida Panthers coach was nearly pressed into service when the team's two goalies were hurt.
It looked like this was going to be another one of those nights.
Sprinted to his car
Billingham was dressed in a suit and snacking on popcorn high above the ice when Devils starting goalie Cory Schneider suffered an injury and headed for the dressing room, leaving backup Keith Kinkaid to mind the New Jersey net.
It was Billingham's cue to get suited up, just in case.
He began making his way downstairs to retrieve his goalie gear from the trunk of his car when Kinkaid took a slapshot to his hand and skated to the bench while the game paused for a TV time out.
There were about 15 minutes left in the third period.
"I was sprinting through the Canadian Tire Centre," Billingham recalled. "And then I had to run from the parking lot with my gear."
Waiting game
Gasping for air, he rushed back to the visitors' dressing room and began suiting up. He had no idea whether Kincaid had gone back in net, or whether he was about to get his first taste of pro hockey.
"I kind of sat there, waiting. There were no TVs in the room, so I didn't know what to expect."
Billingham never got his 'OK kid, you're in!' moment. Kinkaid had shaken off the stinger and resumed play. The Devils went on to win 5-4 in overtime.
Billingham, an advertising executive by day, had aspirations to play college hockey in the U.S., but stayed in Canada. He had a couple of professional try-outs following his university career with the Ottawa Gee-Gees and Concordia Stingers, but never made it to the big leagues.
That night in October, he nearly did.
'Funny how things work'
"It's kind of funny how things work. Two years after I stopped playing, I get the closest to professional play," he laughed.
"I guess everyone kind of thinks of that crazy opportunity that jump-starts your NHL career."
He's played over the what-ifs a thousand times in his mind.
"I would like to think I would go in there and shut the door, but you never really know until you're put in that position," he reflected.
He thought of that night again last week when another emergency goalie, 36-year-old accountant Scott Foster, made seven saves and earned a shutout in his debut with the Chicago Blackhawks.
"He looked good out there," Billingham said. "He was able to be in the right place and make the saves he needed."
To keep reading: CLICK HERE