No. 1 playoff goalie? Answer might surprise you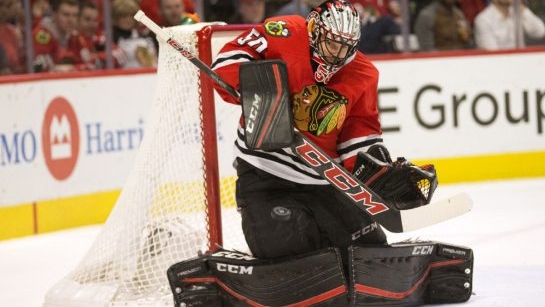 Original Source: MIKE ZEISBERGER, TORONTO SUN
Posted on: Apr 11, 2017
If the endorsement of a starting playoff goalie is the number of times he's left his fingerprints on hockey's Holy Grail, isn't it time that Corey Crawford earns some much-deserved respect?
No, the Chicago Blackhawks goalie has never led Canada to an Olympic gold medal like the Montreal Canadiens' Carey Price. He isn't as stylish and flamboyant off the ice as the New York Rangers' Henrik Lundqvist, who helped Sweden to the title at the 2006 Winter Games. He's never won a Vezina Trophy like Price, Lundqvist, the Boston Bruins' Tuukka Rask, Sergei Bobrovsky of the Columbus Blue Jackets or the Washington Capitals' Braden Holtby.
He can be a speed wobble on blades, as was the case two years ago when he faltered in the first round series against the Nashville Predators, temporarily taking a seat on the end of the bench in favour of Scott Darling.
But come crunch time — when the Stanley Cup is on the line and the exhausting two-month grind known as the playoffs is coming to an end — there is no one his fellow Blackhawks would rather see in their crease than Crawford.
Back in 2015, having put his earlier struggles against the Predators behind him, Crawford was outstanding down the stretch when it mattered most. With the Hawks trailing the Tampa Bay Lightning 2-1 in the best-of-seven Cup final, Crawford slammed the door on Steven Stamkos and co., allowing just two goals in the final three games en route to the title.
In 2013, Crawford outduelled Rask in the final as the Hawks overcame a late deficit in Game 6 to win the Cup, a performance that earned him the ultimate praise from captain Jonathan Toews. "Patrick Kane won the (2013) Conn Smythe (as playoff MVP) , but if we had our choice, for sure it would have been him," Toews said.
Entering the 2017 playoffs, only two of the starting goalies slated to play their respective Game 1s have ever hoisted the Cup in that role. Aside from Crawford, the other is the Pittsburgh Penguins' Matt Murray, who a year ago joined the likes of Patrick Roy, Ken Dryden and Cam Ward as goalies who led their teams to the championship as a rookie.
Pittsburgh's Marc-Andre Fleury backstopped the Pens to the Cup in 2009, but he now serves as Murray's backup. Martin Jones (Sharks) and Jonathan Bernier (Ducks) have their names engraved on the Cup for backing up Jonathan Quick in Los Angeles.
As Postmedia ranks the 2017 playoff goalies, Corey Crawford might not be your No. 1 choice. But he certainly is in the eyes of multiple Cup winners, including Toews and Kane, and in ours.
CLICK HERE to read original article