Rinne digs streamlined goalie pants: 'I'm European, so I like slim fit'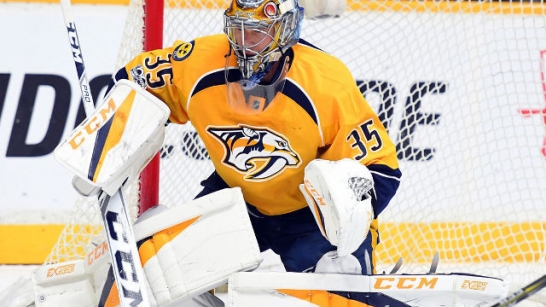 Original Source: Craig Hagerman
Posted on: Feb 07, 2017
Nashville Predators goaltender Pekka Rinne has no complaints with the league's new streamlined goalie pants.

The new slimmer pants were made mandatory as of Saturday night, and after going nearly perfect in a 1-0 loss to the Detroit Red Wings on Saturday night, Rinne hinted that he actually prefers the new equipment.
"'I'm European, so I like slim fit," Rinne said, according to the Tennessean's Adam Vingan.
Toronto Maple Leafs netminder Frederik Andersen didn't throw much shade toward the new pants despite allowing five goals on 41 shots in a 6-5 win over the Boston Bruins, noting they did little to impede his play.
"No, not really," Andersen said post game. "Maybe restricting a little bit moving around but that's how it is with new gear. I'm sure I'll focus on getting that fixed."
In all, 74 goals were scored in 13 games Saturday night, an average of nearly six goals per game, but only time will tell if the new pants will lead to more goals.