Ron and Don: Goalie interference 'too confusing now'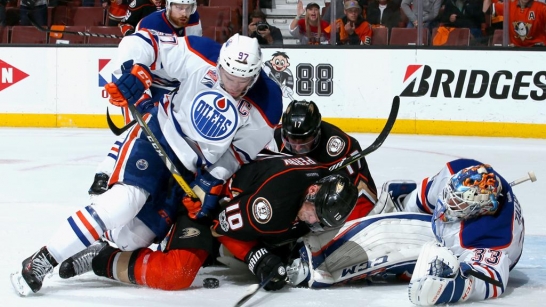 Original Source: Josh Beneteau
Posted on: May 07, 2017
Don Cherry says goaltender interference is "too confusing now" and thinks there should be changes to how the rule is reviewed.
Cherry was specifically talking about the end of regulation in Game 5 between the Edmonton Oilers and Anaheim Ducks, where Anaheim's Ryan Kessler seemed to interfere with Edmonton's Cam Talbot on the game-tying goal. After video review, the goal counted and the Ducks eventually won the game in overtime. "I can't believe they didn't call it," Cherry said during Coach's Corner on Hockey Night in Canada Saturday. "I don't know how they could ever call goalie interference after that one."
Cherry is fine with reviewing for goaltender interference, but thinks the process should be streamlined. He brought up an idea he has had in the past, suggesting that the only way for goaltender interference to be called consistently is if there is one person in the league office responsible for every call. Ron MacLean explained during the segment that the current system has five people in the video room who are communicating with the two referees on the ice. "They should have one guy say yes or no," Cherry said. "If he's lousy he'll be lousy all over." Cherry also pointed out a situation where goaltender interference wasn't called during the first period of Saturday's Game 5 between the Pittsburgh Penguins and Washington Capitals. Braden Holtby and said the officials should have called a slew foot on the play. Hornqvist got away with it. "(Hornqvist) knows exactly what's going on," Cherry said. "That should have been called."
Cherry wondered why the referee closest to the play didn't notice Hornqvist tripping Holtby. MacLean, who has experience as a referee, explained how that officials's job is to watch the puck, which was behind Holtby's net. This leaves the other referee, who was near center ice, to call interference in front of the net.
"I can't argue with you," Cherry said. "It's silly."

CLICK HERE to read more